QDot™ PbS Quantum Dots, oleic acid capped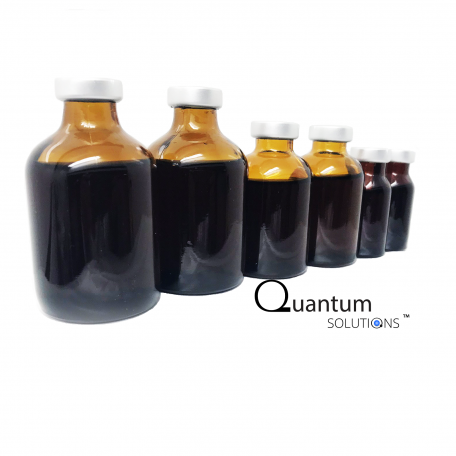 QDot™ PbS (Lead Sulfide) Quantum Dots, oleic acid capped, absorb the light from high energy photons up to near-infrared (NIR)/short-wave infrared (SWIR) ranges and re-emit in NIR/SWIR ranges. The absorption/emission profiles can be tuned from 800 to 2200 nm, simply by changing nanoparticle sizes from 2 to 12 nm. This material has outstanding light absorption and photoelectrical properties, and is utilised for near-infrared (NIR) or short-wave infrared (SWIR) image sensors.  For specific application convenience, two lines of QDs are available:
• With specific absorption peak in 800 – 2200 nm range
• With specific emission peak in 900 – 1600 nm range
Description
QDot™ PbS (Lead Sulfide) Quantum Dots, oleic acid capped, absorb the light from high energy photons up to near-infrared (NIR)/short-wave infrared (SWIR) ranges and re-emit in NIR/SWIR ranges. The absorption/emission profiles can be tuned from 800 to 2200 nm, simply by changing nanoparticle sizes from 2 to 12 nm. This material has outstanding light absorption and photoelectrical properties, and is utilised for near-infrared (NIR) or short-wave infrared (SWIR) image sensors. The material is also suitable for X-ray image sensors and infrared LEDs.


For specific application convenience, two lines of QDs are available:
With specific absorption peak in 800 – 2200 nm range
With specific emission peaks in 900 – 1600 nm range
QDot™ PbS Quantum Dots have following advantages:
Optoelectronic device grade QDs to be used in near-infrared (NIR) or short-wave infrared (SWIR) image sensors
Unprecedented absorption/emission peaks accuracy and reproducibility (up to +/-5 nm)
Narrow particle size distribution (FWHM of absorption and emission < 100-120 nm, STDV < 5-10%) for higher devices performance
QDot™ PbS QDs, oleic acid capped, can be supplied as a solid paste/powder that is easily soluble in octane or any other non-polar solvents (hexane, toluene, chloroform, chlorobenzene, dichlorobenzene) in a wide range of concentration up to 100-150 mg/mL. Follow the video for the detailed guide how to dissolve the QDot™ PbS powders. PbS QDs in a solution form (octane, toluene or other non-polar solvents) are also available.
Click here to view the Technical Specification for detailed information.
This product is also found on Merk/Millipore Sigma.
QDot™ is a trademark of QUANTUM SOLUTIONS. Contact us to make any requests and questions or buy products online
Need a custom solution for your application? Contact us!