QDot™ SharpGreen 钙钛矿量子点聚合物膜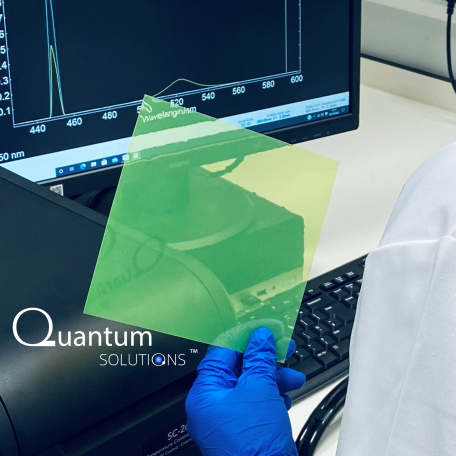 QDot™ SharpGreen Perovskite QDs Polymer Film main features:
QD backlighting film for higher color gamut LCD displays with pink LEDs (> 90 % Rec 2020 coverage). Cadmium free, RoHS compliant (Pb content less 1000 ppm)
Next generation scintillation film for X-ray imagers or UV sensors
Sharp and bright green emission at 520-530 nm, narrow full width at half maximum (FWHM < 20-22 nm) and high photoluminescence quantum yield (PLQY up to 80-100 %), short PL lifetime < 10 ns
Description
QDot™ SharpGreen Perovskite QDs Film is a polymer composite with embedded QDot™ SharpGreen Perovskite ABX3 QDs. It is designed to be used in LCD backlighting units and sensor devices for X-rays and UV lights. The material has green emission 520-530 nm (depending on the concentration), high PLQY (up to 80-100 %) and narrow FWHM (< 20-22 nm). Films has high reliability under heat, light and humidity. They retain > 70-80 % of initial photoluminescence within 1000 hours of exposing by heat (85 °C and blue light 10 mW/cm2 exposure), high relative humidity (90 % RH at 60 °C) and high flux exposure (100 mW/cm2).
QDot™ is a trademark of QUANTUM SOLUTIONS. Contact us to ask the quote for QDot™  SharpGreen Perovskite QDs Film with required sizes, thickness and QD concentration.
Need a custom solution for your application? Contact us!