How bringing down the cost of SWIR imaging will revolutionise machine vision, automotive, and consumer electronics
August 21, 2022
Old barriers to mass SWIR sensors production are tumbling fast, with multiple sectors set to benefit. And, says Quantum Solutions' Dr. Sergio Lentijo Mozo, supplying top-quality quantum dots will be a key part of the process.
Short-wave infrared (SWIR) sensing in the range from 900 – 2,500 nm is attracting attention in multiple fields because the imaging solutions it offers promises a range of unique features.
Among the many sectors eager to capitalise on SWIR's many benefits are the machine vision, automotive and consumer electronics industries. But complex production procedures mean that the creation of current SWIR sensors is not easily scaled.
This is because the majority are based on InGaAs technology – resulting in a complicated and non-scalable fabrication process. As a result, this leads to a high production cost, as well as a high price per sensor. Sensor prices can reach as much as tens of thousands of dollars.
Additionally, the current generation of sensors have a narrow sensitivity range up to 1,700 nm, as well as limited camera resolution (<1.36 MP). These two factors, plus the cost, hinder SWIR's widespread adoption.
New technology heralds major changes
New sensor technology based on QDot™ quantum dots promises to democratise the SWIR image sensor camera market by offering a new benchmark in performance and cost. This is because QDot™ quantum dots can be monolithically integrated on silicon CMOS read-out integrated circuits (ROIC).
As a result, they are an ideal solution for businesses searching for economical, high-resolution image sensors with the broadband sensitivity they need.
Several companies have already commercialized Quantum Dot SWIR image sensors. These include Emberion and SWIR Vision Systems, whose cameras are sold for machine vision applications.
Compared to sensors created using the InGaAs production method, QDot-based SWIR image sensors offer a wider range sensitivity (300-2,500nm), smaller pixel size (<5μm), higher resolution, and a sensor fabrication process that is a 3-10x times more cost-efficient.
Taking SWIR production to the next level
Adoption of SWIR cameras in a mass market requires the price for these sensors to drop below 50-100 dollars. Such cost optimisation is only possible by making use of high throughput wafer-level processing. Despite the common belief that the QDot technology is at an early stage, it is, in fact, validated and mature enough for scaled-up SWIR image sensors fabrication.
Imec, a nanotechnology hub based in Belgium, is developing a high throughput technology for 200mm wafer-level processing and has already demonstrated SWIR image sensors with sub-2μm pixel pitch. The work is being done in partnership with stakeholders across the value chain.
For such a throughput, quantum dots production quality and reproducibility is one of the most crucial requirements. And in order to guarantee the replicability of the camera's spectral range, EQE, dark current and processability, it is imperative that the quantum dots quality must be consistent. This is where Quantum Solutions is coming into play by providing a continuous supply of quantum dots qualified for SWIR sensors manufacturing.
As Dr. Sergio Lentijo Mozo, director of manufacturing at Quantum Solutions noted: "We are able to accommodate strict requirements of the optoelectronic industry because of unique customised approach, a proprietary manufacturing technology and high standards of quality control."
Image sensor prototype:
To showcase the technology possibilities, Imec engineers fabricated the SWIR image sensor prototype using Quantum Solutions' QDot™ PbS quantum dots with 5.5 nm particle size corresponding to 1,420 nm absorbance peak (QDot™ PbS-1420-abs). A quantum dot stack was deposited on CMOS ROIC chip to make the SWIR camera prototype having 640 x 480 px resolution with 5μm px pitch. The prototype demonstrated the solid performance metrics with the spectral sensitivity range of 300 – 1,500 nm with the EQE reaching over 45% at 1,450 nm that is getting closer to the industrial standards based on InGaAs technology. But the unique advantages of quantum dots technology is its spectral range tunability. In principle, this high throughput technology platform allows to utilize PbS quantum dots in a wide spectral ranges up to 2,500 nm.
QDot™ SWIR sensor specification (using QDot™ PbS-1420-abs):
Parameter
Performance
Range
400 – 1500 nm
Pixel pitch
5 μm
Array size
640×480 px
CG (HCG/LCG)
8.3/1.5 μV/e–
DR
84 dB
PD swing
0.7 V
FWC
470,000 e–
Dark current
(at room temperature)
< 1 μA/cm2
PRNU
1.3 %
RN (dark random noise,
min integration time in dark)
33 e–
QE @ 1450 nm
45 %
QDot™ SWIR sensor spectral sensitivity (using QDot™ PbS-1420-abs):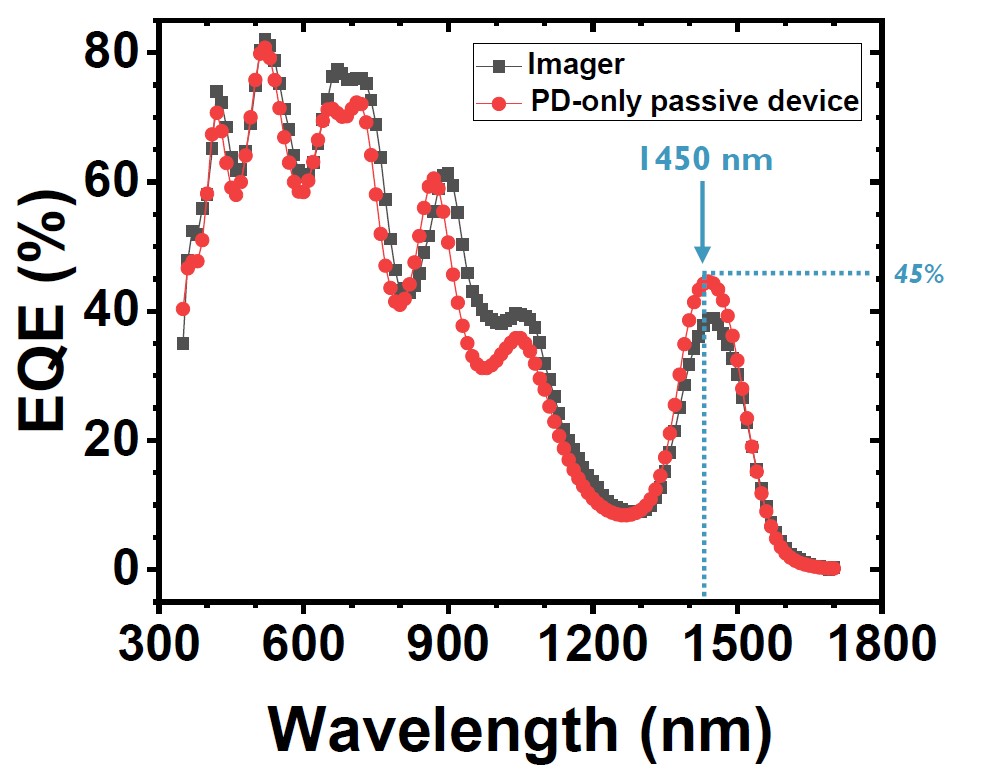 SWIR sensor prototype in use:
The SWIR sensor technology using QDot™ PbS quantum dots has unprecedented advantages over traditional InGaAs sensors. Quantum dot sensor technology is scalable, tunable and enables high resolution imaging, and can be used in many devices starting from machine vision cameras to consumer electronics. For showcasing purposes, Quantum Solutions and Imec demonstrated how SWIR sensors might be utilized.
In machine vision, SWIR cameras can be used for various purposes:
Silicon inspection: to identify cracks and voids in silicon wafers and to see through silicon wafers for packaging inspection.
Plastics sorting: to sort out white or black plastics according to their types.
Food quality inspection and control: to detect and sort contaminants, identify spoiled food, etc.
Watch the video to see how the sensor prototype works:
Another unique feature of SWIR vision is its transparency through various obstructions, such as mist, fog, haze, smoke or dust. We demonstrated how the SWIR camera can image the objects through smoke. This feature can be use for firefighting, security and even automotive applications:
In automotive, the SWIR technology can be used to improve tenfold the precision of 3D aerial and geographic mapping, as well as advanced driver-assistance systems at night and in adverse weather conditions (mist/fog/snow).
There are many other areas where this technology shows promise, for example defence, night vision and security. New SWIR cameras will certainly be a more affordable solution for night vision, for example. Also they can be used in airports or train stations for security purposes – face recognition through sun-glasses, identification of fake skin or wig. Ultimately, one of the most significant mass scale applications for new-generation SWIR cameras is in consumer smartphones. The image sensors of the phones' cameras can be used for biometrics (face recognition and security) as well as 3D photography.
Stay tuned to see such applications in action…
Quantum Solutions is a global leader in providing quantum dot components and technology for wide range image sensors: from infrared to X-ray ranges. Their SWIR QDot™ quantum dots have high optoelectronic grade quality and precise batch-to-batch production reproducibility, which are qualified to manufacture SWIR image sensors, from small to large industrial scales. Contact at [email protected] to discuss your needs in enabling the next generation image sensors with quantum dot technology
Imec is a world-leading research and innovation hub in nanoelectronics and digital technologies. The combination of our widely acclaimed leadership in microchip technology and profound software and ICT expertise is what makes us unique. By leveraging our world-class infrastructure and local and global ecosystem of partners across a multitude of industries, we create ground breaking innovation in application domains such as healthcare, smart cities and mobility, logistics and manufacturing, energy and education. As a trusted partner for companies, start-ups and universities we bring together more than 5,000 brilliant minds from almost 100 nationalities. Imec is headquartered in Leuven, Belgium and has distributed R&D groups at a number of Flemish universities, in the Netherlands, Taiwan, USA, and offices in China, India and Japan. In 2019, imec's revenue (P&L) totalled 640 million euro. Further information on imec can be found at www.imec-int.com.
Need a custom solution for your application? Contact us!